CORTEX aiASSIST
Intelligent Virtual Assistants & Advisors 
CORTEX aiASSIST is an intelligent virtual assistant and advisor solution that can be customized for a variety of AI-based assistance and advisor type of solutions across multiple industries. The spectrum of intelligent virtual assistants and advisors starts from those with low technology integration and complexity such as chatbots that simply provide information, to ones that are more integrated and complex and can provide assistants and even advice. Some examples are outlined below.
Examples of intelligent virtual assistants & robo-advisors and automation of certain tasks include:
Financial services (personal assistant & robo-advisor for wealth management, insurance (e.g., insurance plan selection), portfolio management, financial assistance, etc.)
Medicine and healthcare (personal assistant & advisor for personal health, wellness, medical insurance, etc.)
Education (personal tutor, knowledge assistant, learning partner, etc.)
Retail (personal shopping, etc.)
Call centres and customer support (e.g., customer support bots)
Travel agents
Security bots
Monitoring and diagnostics
Process supervision
Personal administration andservices
Agricultural assistant & advisor
Resources, mining, utilities & manufacturing (productivity & safety assistant & advisor; maintenance support,etc.)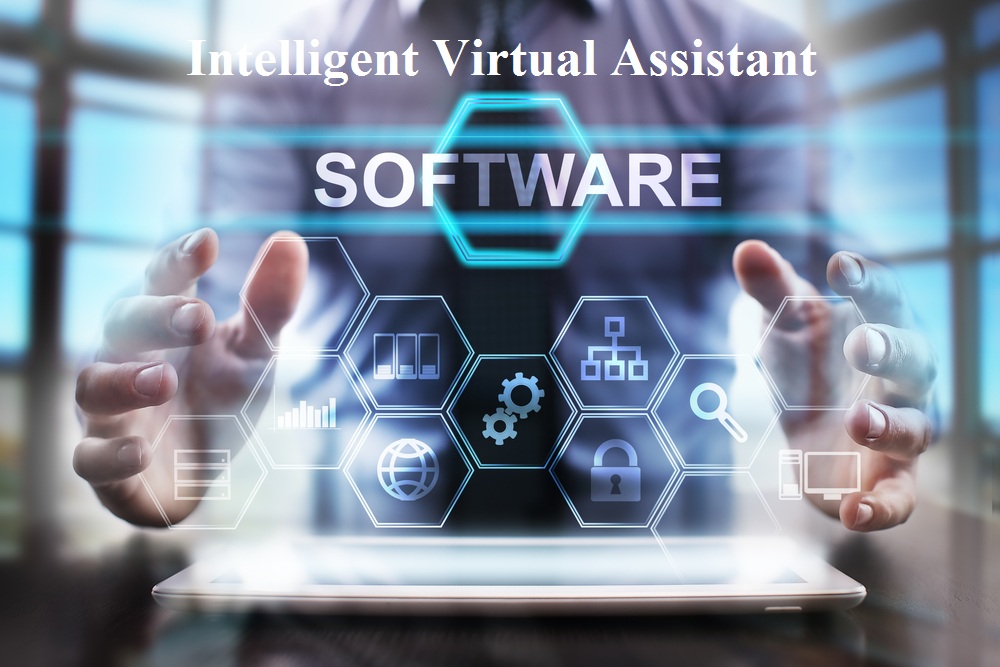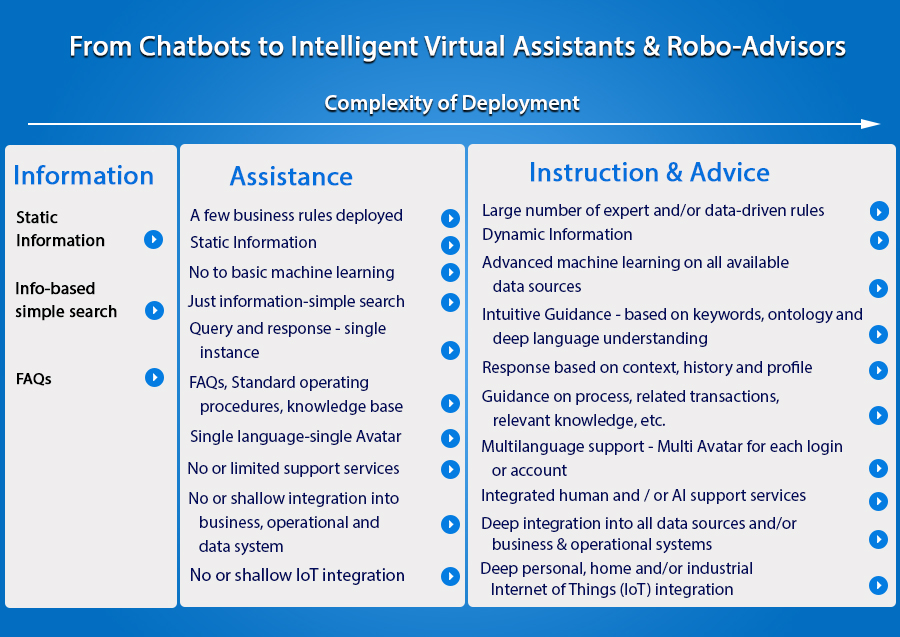 &nbsp
&nbsp
The general complexity of deployment with respect to chatbots, intelligent virtual assistants and robo-advisors various, amongst others, with respect to the following characteristics:
From no or few business rules deployed to a large number of expert and/or data-driven rules
From static information to more dynamic information
From no machine learning to more end-to-end use of machine learning (e.g. deep learning) making use of all available data sources
From just information-simple search to intuitive guidance based on keywords, ontology, and deep language understanding
From query and response (single instance) to response based on context, history and profile
From FAQs, standard operating procedures and limited knowledge bases to guidance on process, related transactions, and relevant knowledge
From single language - single Avatar to multi-language support - multi Avatar for each user
From no or limited support services to more deeply integrated human expert and/or AIdriven support services
From no or shallow integration into business, operational, and data systems to deep integration into all data sources, and/or business and operational systems
From no or shallow Internet of Things (IoT) integration to deep personal, home, and/or industrial IoT integration
Intelligent virtual assistants and robo-advisors in Insurance
Intelligent virtual assistants and robo-advisors are, for example, a good fit for life and short term insurers. AI's initial impact primarily relates to improving efficiencies and automating existing customer-facing, underwriting and claims processes. It is also clear that the impact of AI will be more profound as it will be used to identify, access and underwrite emerging risks and identify new revenue sources. Some of the AI applications for the Insurance industry with respect to enhance services such as personalized customer experience, digital advice, automating and augmenting underwriting and robo-claims adjusting. The specific value added are respectively redefining the value proposition to the customer, redefining distribution, enhancing efficiencies and reducing claims processing time and costs. Some of the AI capabilities include natural language processing. machine learning (including deep learning), graph analysis, deep question and answer systems, audio/speech analytics, sensors/IoT, soft robotics, virtual personal assistants and simulation modelling.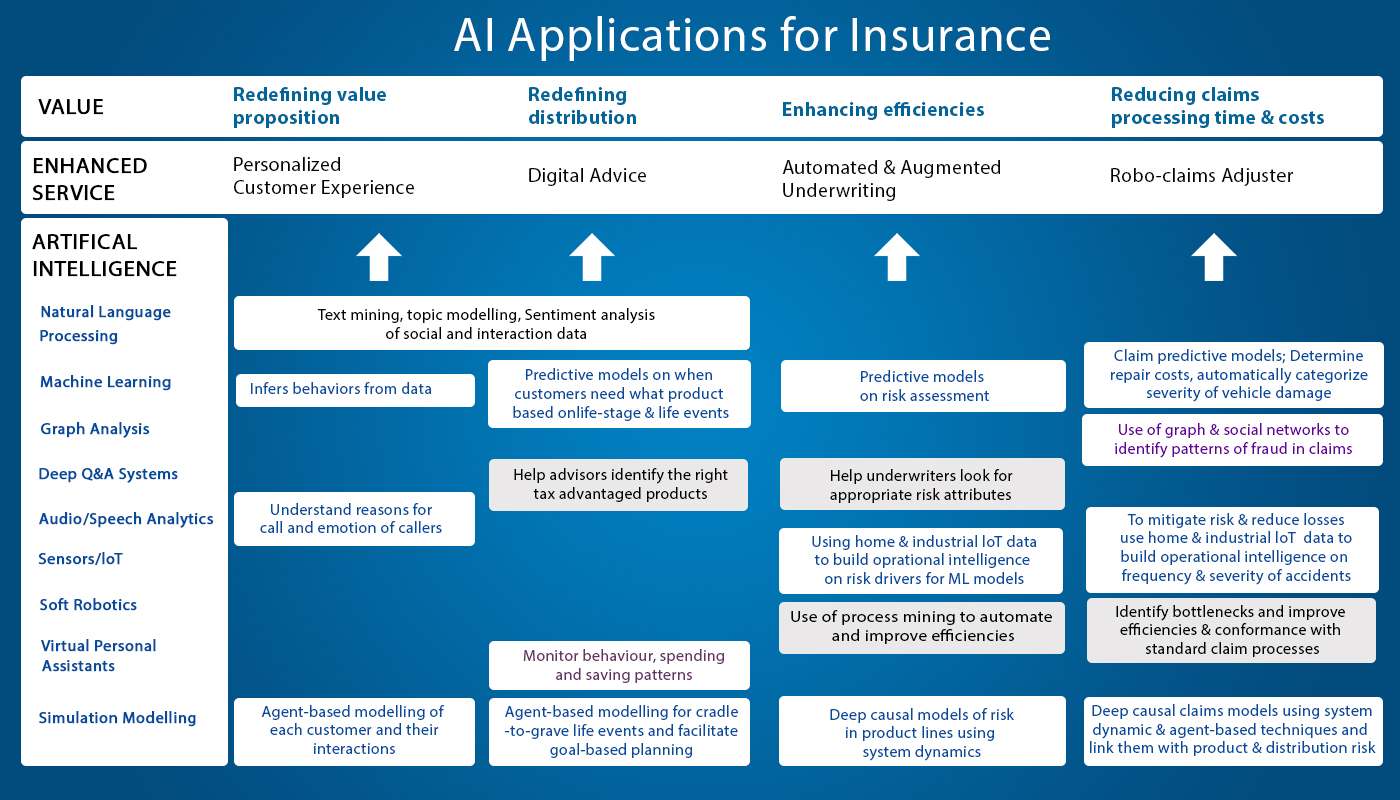 &nbsp